Here is once again a pattern based on vintage drawings of flowers. Today it is two tulips – one deep purple in color and the other one yellow.
Stitch count: 90w X 142h Stitches, 29 colors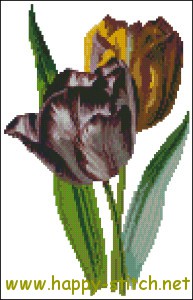 Сегодня я снова сделала схему для вышивки из винтажного изображения цветов (таких накопилось уже достаточно, что хорошо видно по тегу "винтаж"). На картинке – два тюльпана, один желтый, а другой – темно-фиолетовый со светлыми прожилками. Вышивка будет смотреться даже более старинной, если сделать её не на белой, а на бежевой или кремовой канве.
Размер вышивки: 90 X 142 крестиков, 29 цветов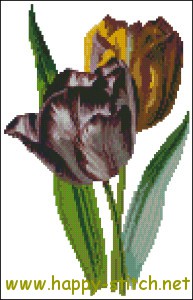 Give your finished work a more vintage feeling by embroidering on a beige or off-white canvas.
[sociallocker]Download free Two vintage tulips cross stitch chart[/sociallocker]
There is one more vintage tulip chart in my collection – the very high valued in Medieval times Semper Augustus. Check it out!

Скачать схему для вышивки крестом "Два тюльпана" бесплатно
Кстати, в моей коллекции схем есть и еще один тюльпан: крайне высоко ценившийся в средневековой Голландии Semper Augustus.