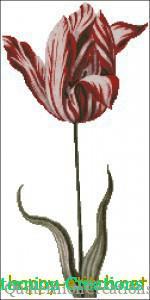 As you could already guess, I'm really deep into vintage drawings of flowers, herbs, and fruits. Today I picked a 17th century watercolor of a beautiful variegated tulip.
It was drawn at the time of the so-called Tulip mania, when tulip bulbs were more expensive that gold itself, and the species from the original image, Semper Augustus, was the most expensive of all. Its exotic mosaic color, that is a result of Tulip breaking virus, made it a piece of luxury for medieval merchants, thus the price was growing rapidly. The tulip economic bubble bursted in 1637, but still lives in painting and books of the period.
Vintage tulip (Semper Augustus) cross stitch chart
Stitch count: 122 x 248 stitches, 22 colors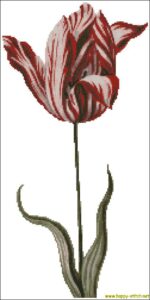 Сегодня я продолжаю винтажную тему, начатую сделанными чуть ранее ирисом и пионом.
Мой выбор пал на акварель XVII века, изображающую тюльпан Semper Augustus – самый дорогой из всех цветов тюльпановой мании средневековой Голландии. В то время, когда цена на одну луковицу могла превышать стоимость хорошего дома, особенно ценились именно такие разноцветные разновидности тюльпанов.
Схема для вышивки "Винтажный тюльпан"
Размер: 122 x 248 крестиков, 22 цвета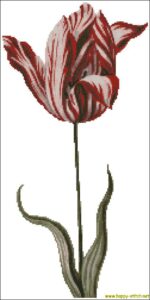 ! Download Vintage tulip cross stitch chart
Did you know? Though tulip mania is the most famous of flower crazes, there were also a hyacinth mania in early 19th century and a Orchidelirium in Victorian era.
! Скачать схему для вышивки "Винтажный тюльпан"
Это интересно! Про тюльпановую манию знают многие, но были и другие помешательства на цветах: например, на гиацинтах или на орхидеях (orchidelirium) в 19 веке.