This small ball is embroidered with four interweaving squares made in yellow, red and green thread.
Division: S8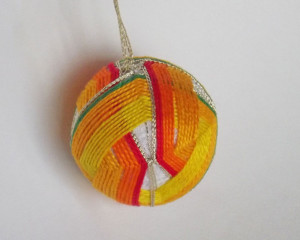 More images in the gallery:Этот маленький шарик вышит четырьмяпереплетающимися квадратами желтого, красного и зеленого цвета на белом фоне. Сочетание цветов дает ощущение радости и весны.
Разметка: S8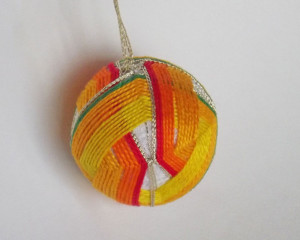 Больше фотографий в галерее:
I am not content with this particular temari, mostly, with inevitable gaps between long stitches. I wonder, would it look any different in other colors?
Из-за большой длины стежков, между ними начали появляться зазоры, через которые просвечивает нижний слой вышивки. Это добавляет шарику уникальности, но нравится не всем. Что скажете?