Today I made for you a pair of very simple patterns with cheerful yellow butterflies and little blue campanulas. The patterns are a combination of full cross stitches and backstitch lining and should be very simple to stitch.
Butterflies bookmark
Pattern size: 29 x 87 stitches, 9 colors

Сегодня у меня для вас – две маленьких схемы, вертикальная (подходящего размера для книжной закладки) и квадратная, идеальная для бискорню или игольницы. Обе сделаны с жизнерадостными желтыми бабочками, летающими среди небольших голубых колокольчиков. Вышивать нужно не только крестиком, но и швом "назад иголку" – им оформлены линии.
Схема закладки "Бабочки"
Размер: 29 x 87 крестиков, 9 цветов

Скачать бесплатно схему для вышивки крестиком закладки "Бабочки и колокольчики"
Butterflies biscornu cross stitch pattern
Размер: 60 x 60 крестиков, 9 цветов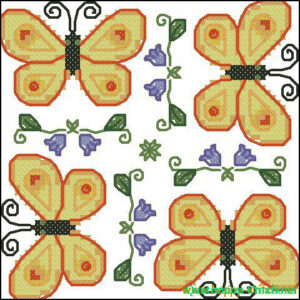 Скачать бесплатно схему для вышивки крестиком игольницы-бискорню "Бабочки и колокольчики"
Приятного вышивания! 🙂
Download free Butterflies bookmark cross stitch pattern
Butterflies biscornu cross stitch pattern
Pattern size: 60 x 60 stitches, 9 colors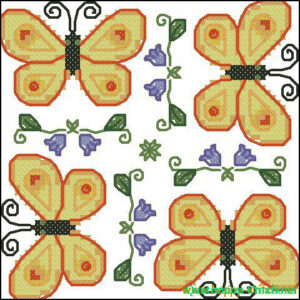 Download free Butterflies biscornu cross stitch pattern by Happy Stitch
Enjoy! 🙂