Once again a Valentine's Day pattern, but this one can be also used to make a hand-crafted postcard.
Three Valentine's hearts pattern
Stitch count: 88w X 69h Stitches, 5 colors (five different shades of red).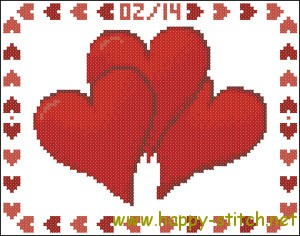 Продолжаем тему Дня святого Валентина – сегодня схема для вышивки с тремя сердечками (три ведь наверняка лучше, чем одно?).
Схема для вышивки "Три сердечка"
Размер: 88 X 69 крестиков, 5 цветов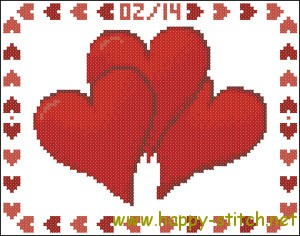 ! Download free Three Valentine's Day hearts cross stitch pattern.
Don't forget to check out more patterns tagged hearts!
! Скачать схему для вышивки крестиком "Три сердечка" бесплатно.
Все цвета, использовавшиеся в этой схеме, это различные оттенки красного – от розового до гранатового.