When I found these illustrations from some vintage magazine, I absolutely fell in love with them. But then I stored images away in a very deep and uncategorized folder on my computer and forgot all about it. Only a couple of days ago, when Holly posted a comment on my Lady Iris pattern I remembered that I had something vintage and chic to convert to cross stitch pattern in mind 🙂 So today's pattern is an adaptation from an old fashion magazine.
Pink vintage lady cross stitch pattern
(When created, the file's name was bhm;dfh,alfdk.jpg because my cat decided to sit on my hands and hide both the screen and the keyboard)
Pattern size: 61w x 117h stitches, 15 colors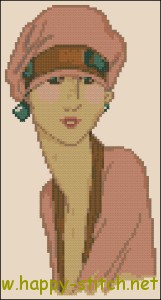 Download Pink vintage Lady free cross stitch pattern
Oh, and there's more images where this came from, so if you would like to see something similart, feel free to shout in comments! 🙂
Enjoy!