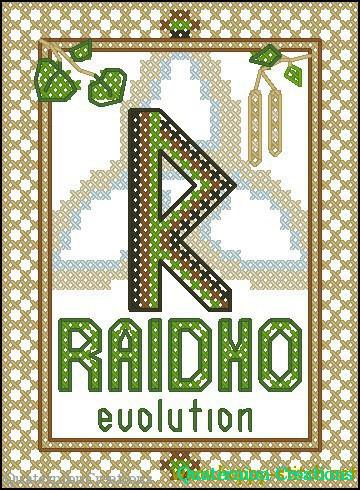 Last rune made a great milestone: half of all Elder Futark runes were completed into cross stitch patterns. So, for now. you can find patterns Fehu, Thurisaz, Kenaz, Gebo, Hagalaz, Nauthiz, Isa, Perthro, Algiz, Tiwaz, Laguz and Othala. And today I'm starting the second half, and I make a pinky promise to you to complete the whole series before this autumn. It is going to be a great quest! And, speaking of quests, today's pick is
Raidho rune free cross stitch pattern
Raidho is one of the runes that all readers agree on: it's primary meaning is the journey, and that may mean both physical travels (that makes Raidho a traveller's good luck charm) and metaphorical quests of our lives. It is an evolution in motion, a rule to move if we want to change and become a better person. It is also a talisman that helps to see your path clearly and not get distracted by obstacles.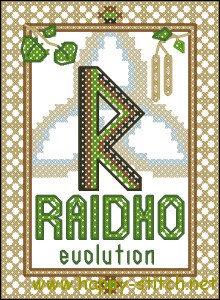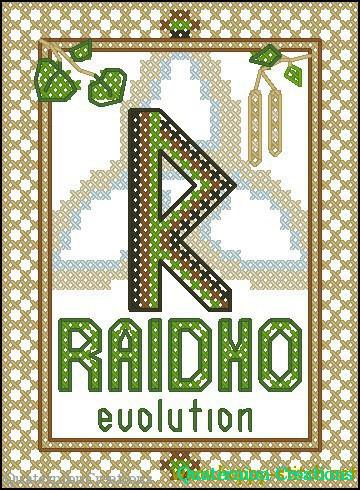 Download Raidho rune free cross stitch pattern
Raidho is also a symbol of life patterns (because in the North mythology the life path of a person was represented by a thread, that entwined with other people's threads into a web or a pattern). Thus Raidho gives you the ability to see your life and the effect of your actions from a perspective.
This rune is a reminder for everyone, that live always goes on, and when we achieve our goals, there are greater goals waiting for us.
The tree I chose for that rune is birch.