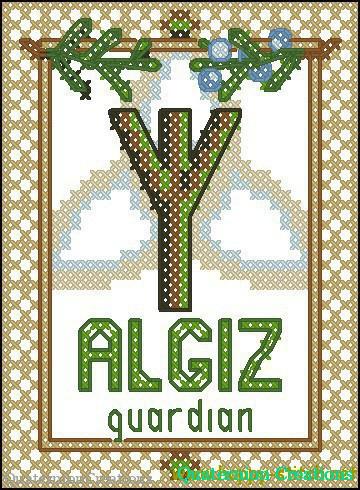 Today's freebie will be another pattern in the runic series. Many thanks to Maria for stimulating me to return to that (unfinished) work through comments 🙂
This time the runes chose to show me Algiz – quite a mystic rune, because, as far as Wikipedia goes, people are nor sure of its name or true meaning, But we will settle for common name of Algiz, that stands for Elk.
Rune Algiz cross stitch pattern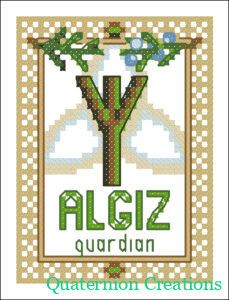 Algiz is an interesting rune, that has a great protective energy and wards off evil. It can be used as a talisman and as a symbol of shield against anything bad. It is also a rune of connection, both with the divine, the ways and patterns of gods, and with people surrounding you. This connecting power makes Algiz a rune of friendship and responsibility for others. A great rune for warriors, it also gives you strength of having courage against for you fear most (ah, I could really use that!).
The symbolic tree for that rune is juniper.