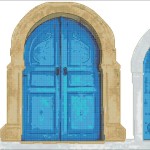 Punk project challenge (week two, since I have effectively overslept the previous one) is to make a project using my favorite colors. And for me nothing represents my favorite color – blue – than the beautiful Mediterranean doors, deep blue on perfectly white walls. So today I made a big pattern using three images of such doors.
The pattern, as usual, is completely free to download (look for the link below the image).
Three blue doors cross stitch patterns
Pattern size: 327 x 136 stitches, 27 colors (approx. 46 x 19 cm on #18 canvas)
Uses: cross stitches, back stitches.