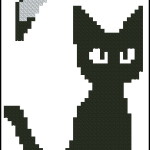 Once again – a bookmark based on Hayao Miyazaki's character (following Totoro bookmark made last week). Today it is the black cat Jiji from the animated movie "Kiki's delivery service", that tells the story of a young wanna-be witch Kiki, who earns her living making deliveries by broomstick.
Jiji bookmark cross stitch pattern
Stitch count: 37w X 95h stitches, 6 colors

Сегодня у меня для вас еще одна схема для создания вышивки по мотивам творчества Хаяо Миядзаки. На этот раз я выбрала черного кота Дзи-дзи из полнометражного мультфильма 1989 года "Ведьмина служба доставки".
Схема для вышивки закладки "Ведьмина служба доставки" (Дзи-дзи)
Размер: 37 X 95 крестиков, 6 цветов

Continue reading "Jiji bookmark cross stitch pattern" →