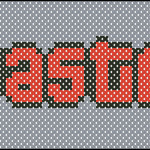 Hello dear readers, and sorry for being away for several days. September began swiftly and brought lots of different projects into my life, including a stitchy square for Stitching out Stigma, an ornament for Christmas ornament exchange, a job offer, and an unexpected journey (yup, I feel almost like a Hobbit. Legs, too :)). On top of that me and my husband are trying to sell the current apartament and buy a new one. But I am still here, and so are the usual freebies. If there are any GTA fans out there, they will definitely like it!
Wasted (GTA inspired) mini cross stitch pattern
A simple mini project, that can be stitched in a night with only three colors (two, if you skip the background). And what a powerful message! 🙂 Any GTA video game fan knows that line.


! Download free Wasted (GTA inspired) cross stitch pattern
Enjoy your stitching!