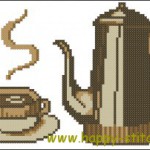 A small and simple pattern for all coffee-lovers all over the world. Both the kettle and the cup on this chart are made in soft and warm brown-and-beige colors (also with coffee in mind!).
Due to limited amount of colors and small size, this is a good piece for beginners.
Coffee time cross stitch chart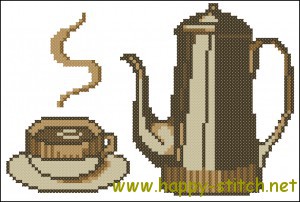 Stitch count: 91 x 61 stitches, 5 colors Небольшая и очень простая схема для вышивки в теплых коричнево-бежевых тонах для всех любителей кофе. Что может быть приятнее утром, чем чашечка горячего кофе прямиком из кофейника? 🙂 Сегодняшняя схема настолько же свежая – ведь я закончила её буквально несколько минут назад.
Схема для вышивки "Чашечка кофе"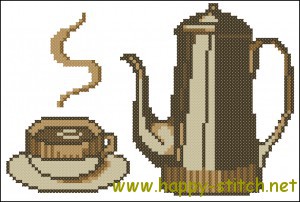 Размер: 91 x 61 крестиков, 5 цветов Continue reading "Coffee time cross stitch chart" →