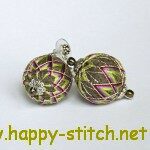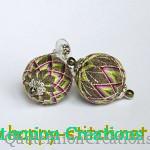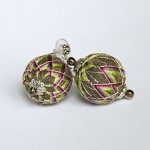 I've tried several times to find a practical implementation for my temari passion. As for now, I've made temari for interior design, temari for Halloween and Christmas, and here is yet another thing you could do with small temari balls.
So here are my newly made silver earrings with two temari pendants.
I had some tribal patterns in mind, with purple and green being the basic colors, when making these particular balls. They may look big on photos, but actually they are only about an inch in diameter and weight 4,5 grams each.
More images: Continue reading "Temari earrings" →