Gebo, the gift
The act of giving is a wonder for two: the one who gives and the ones, who accepts the gift. Gebo can symbolize both sides of the exchange. It is a rune for relationships and for meatings, a good symbol for anyone who has to work with people.
Being a rune of connection, Gebo also symbolizes love and marriage (so it can make a fair wedding gift). Gebo is a great good-luck charm for strengthening relationships.
If you came on this page while randomly browsing the Web, expect Gebo to bring you new connections with people.
Stitch count: 36 x 49 stitches, 7 colors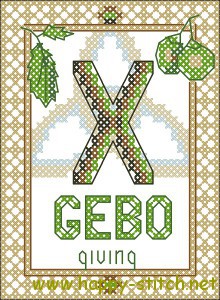 Continue reading "Gebo rune cross stitch chart" →