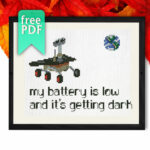 Now who would have guessed that I could tear up upon hearing news from some
54.6 million kilometers away? But Opportunity the Mars Rover and her last words did make lots of people sad, me included.
So today I'm celebrating little persistent Oppy with this free design (scroll to see the link to PDF file). Enjoy!
Continue reading

""My battery is low and it's getting dark""