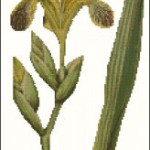 The iris tales its name from the Greek word for rainbow because of the many colors of different irises. There are around 300 species of this plant! Today's chart is based on a beautiful vintage painting of a yellow Iris germanica, a very common garden flower. if you liked my Vintage peony chart, than you are sure to enjoy this one too!
The chart is relatively big and uses a lot of close colors, so I would recommend it for patient stitchers. Try using colored canvas to make the finished embroidery even more vintage!
Vintage yellow iris cross stitch chart
Stitch count: 103w x 207h stitches, 27 colors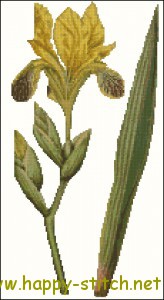 ! Download Vintage yellow iris cross stitch chart
As always, this chart is free for download. And if you want to thank me for my work, like Happy Stitch on Facebook or Pinterest!
Did you know? In Greek mythology Iris was the messenger goddess, that linked gods and humans. She was the personification of rainbow (thus the name) and was often depicted as a winged young girl. Прекрасный и нежный ирис – частый гость на весенних клумбах. Свое название этот цветок получил благодаря огромному разнообразию своих видов (насчитывают около трех сотен!) – от греческого слова, обозначающего радугу. Сегодняшняя схема для вышивки – это винтажное изображение желтого ириса. Если вам понравилась схема с пионом , то и эта наверняка не оставит вас равнодушной!
Схема довольно большая, используется много похожих цветов, и я не рекомендовала бы её новичкам.
"Ирис в стиле винтаж"
Размер: 103 x 207 крестиков, 27 цветов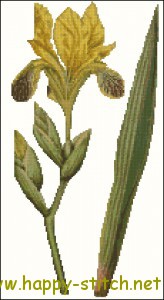 ! Скачать схему для вышивки "Ирис в стиле винтаж"
Схему можно скачать совершенно бесплатно, а чтобы сделать мне приятное – жмите лайк!
Это интересно! Греческая богиня Ирида, посланница богов, на самом деле – тезка ириса. Их имена происходят от одного и того же слова. А уже в её честь назван металл иридиум.