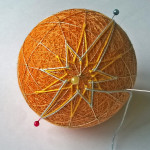 A couple of days ago Judy asked for the directions of how to make a temari with slightly modified and elongated kiku flowers. Here is a tutorial!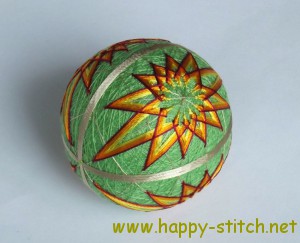 Start with a temari base (I chose the orange ball today) and divide it into eight sectors (Simple 8, S8 division) with an obi center line. Here is a great tutorial on how to do it.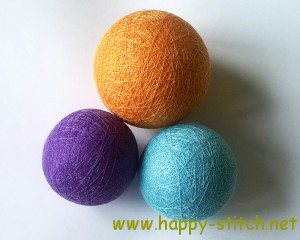 Place all the marking threads. Your mari now looks like that: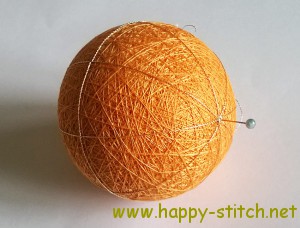 My metallic marking thread tends hide on the bright orange ball, so I made a few illustrations as well. The marking lines on these pictures are drawn parallel only for convinience!
Take four pins and place them on the nonadjacent points of intersection on the obi: points A, B, C, and D on illustrations. Be sure to use the pins that are colored differently from North and South poles. These pins wiil be the centers of future kiku flowers on the temari.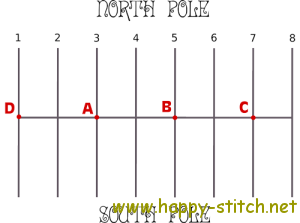 Keeping all the pins in place, position the ball so that pin A is the north pole, making pin C the south pole. From that point of view, you will see a S4 division. Complete it to S12: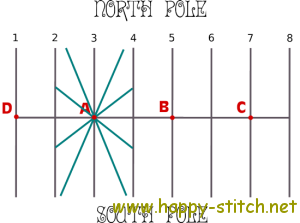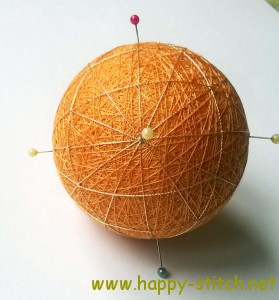 Rotate the ball again to make pin B the north pole and stitch an S12 around it as well.
Return the original north and south poles in their rightful places. You should have four similar sectors on your mari with 12 marking threads coming out of points A, B, C, and D. Breathe out,
we've done the hard part
– let's get to stitching the kiku flowers 🙂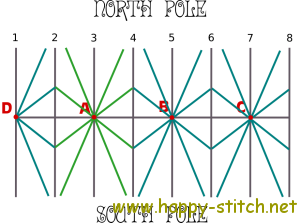 Start at pin A and place pins on all intersection of it's S12 threads with neighbouring marking threads of the original S8 (the ones coming from north toВ south pole).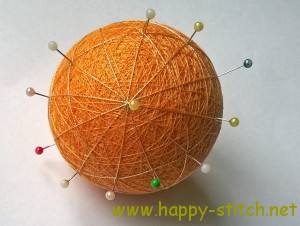 Measure the distance from pin A to the nearest pin (it will be along the obi) and divide it in half. On my ball, the distance is 3 cm (1.2"), and half of it is 1.5 cm (0.6"). Now move all the pins (including north and south poles) closer to pin A by that measurement.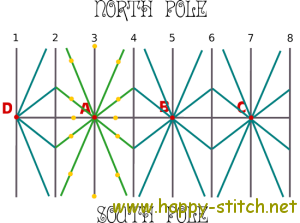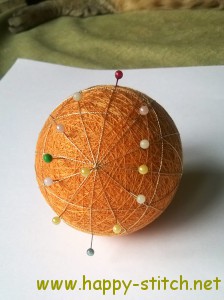 (The photo is only here to show a bit of my cat's belly 🙂 )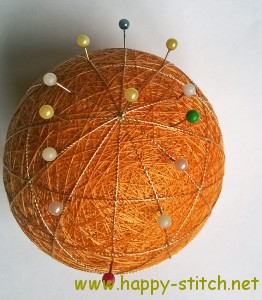 Note, that on the illustration above I placed the yellow points (=pins) by eye, just to give you the explanation how it all should look.
The pins that you just placed will be the ending points for kiku petals.
Stitch kiku stitches
around pin A.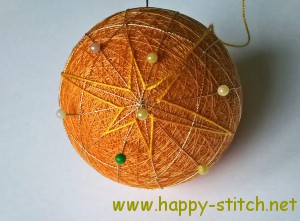 First row: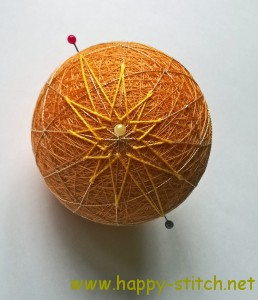 When you finish the kiku on one side, move on to pins B, C, and D, and repeat. (I will post the photos for that step a soon as I finish my own mari 🙂 )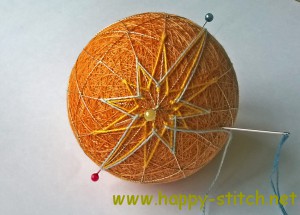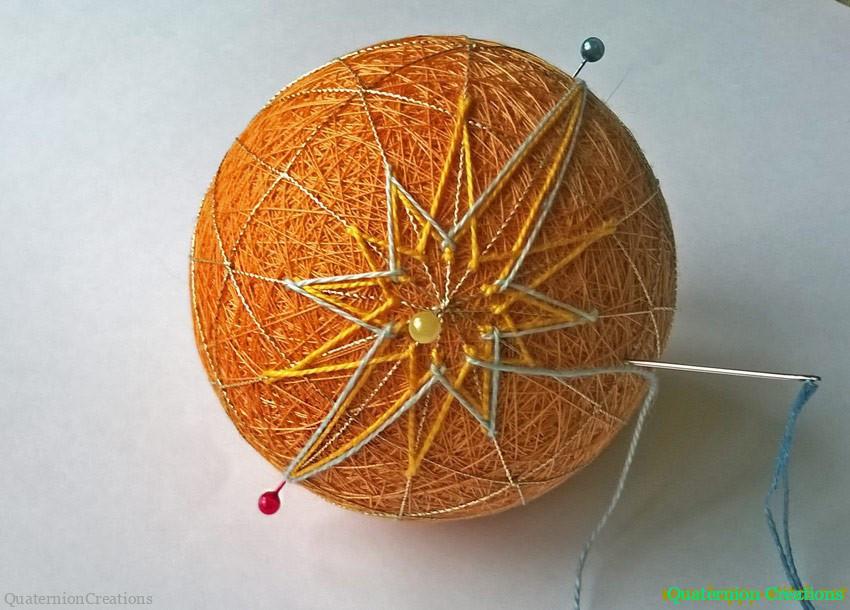 To give your temari a finished look, take a long piece of thread and wrap it from north pole to south along marking threads 2 and 6, then repeat again across the wrapped threads along marking lines 4 and 8. Place tack stitches (called
tabane kagari
) at the poles to keep wrapping in place and reward yourself for a job well done.
Enjoy your stitching!