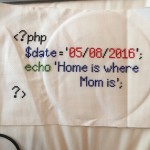 Hi everybody,
Hope you were not troubled to much with my absence? Being utterly and completely pregnant, I had spent some months feeeling morning sickness just by looking at my laptop, set aside opening it 🙂 But hopefully I am through that period now – and back to stitching!
Mother's Day is advancing on us, and Alexandra asked me to make a custom pattern for her Mom, featuring the phrase, Home is whre Mom is. She sent me a photo of her finished stitching, and it looks great, agree?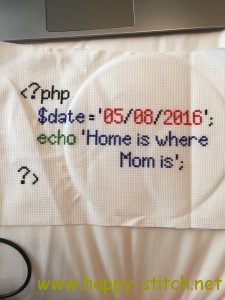 I totally love the way it turned out.  Alexandra, thank you so much for sharing! 🙂
So if you, by any chance, stitched some of my patterns, don't hesitate to send a photo – I would really enjoy seeing how they come to life, and sharing the photos with the rest of the world.