A nice and small design with two fishes to make a biscornu pincushion (tutorial: what is a biscornu and how to make it) or a square motif for decoration. Today I drew inspiration from traditional Japanese fish ponds (koi ponds) and the yin-yang symbol.
Did you know? The design of such pond can have effect on the health of the carps in it.
Fish pond pincushion pattern
Stitch count: 49 x 49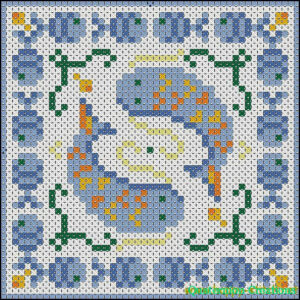 "Рыбки" – небольшая квадратная схема для вышивки крестиком. Её можно использовать как обычную схему, как заготовку для игольницы бискорню (мастер класс "Что такое бискорню и как её сделать") или для вышивки на предметах интерьера и подарках. Вдохновением для этой схемы послужили традиционные японские пруды с разноцветными карпами кои и немножко – символ равновесия инь-ян.
Это интересно: Архитектура пруда для карпов влияет на их здоровье и самочувствие.
Схема для вышивки подушки "Рыбки"
Размер: 49 x 49 крестиков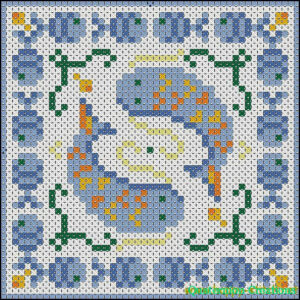 Continue reading "Fish pond cushion/pincushion pattern + cat bonus :)" →