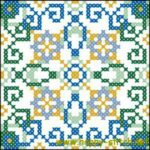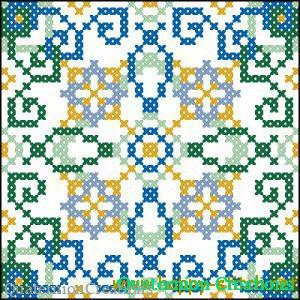 Following the last biscornu tutorial: two small symmetrical patterns that can be used to make a biscornu pincushion. And if you use bigger canvas and wool, you can make beautiful pillow cases using the same patterns.
Both charts are small and beginner-friendly.
Oriental ornament chart
The blue and green palette on this chart is inspired by middle-Eastern ornaments. Being a mathematician, I am really an ornament person, enjoying geometry in every possible way. That is one of the thing that I like in Temari as well.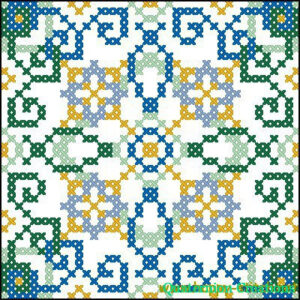 На прошлой неделе я выкладывала мастер-класс по созданию маленькой игольницы – бискорню, а сегодня хочу выложить две схемы, которые идеально подойдут для такой игольницы. Оба этих орнамента – квадратные и симметричные, а значит, будут хорошо смотреться на бискорню. Ну а предпочитающие крупные формы могут взять канву другого размера и шерсть, и вышить обычные, стандартные подушки.
Схемы простые и вполне могут быть вышиты новичками.
Восточный орнамент
Цветовое решение и узоры на этой схеме вдохновлены традиционными орнаментами Средней Азии. Честно признаться, я вообще люблю геометрические орнаменты – возможно, это шепчет забыте математическое образование 🙂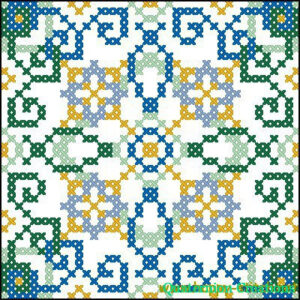 Continue reading "Two square cushion (pincusion) patterns" →