I'm not sure, that this pattern is really about fans, but anyway this black temari looks nice in it 🙂 It's really simple and made with the basic kiku stitches. All eight sides of the balls are different in color.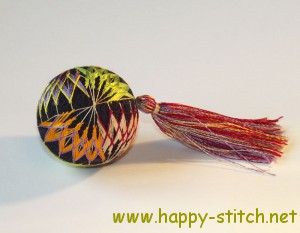 It is the first temari that my cat not only payed attention to, but actually stole and tried to hide somewhere. Cats!
More photos: Еще один тэмари, вышитый базовым узором "кику" (хризантема). На этот раз при помощи незамкнутых хризантем получаются симпатичные веера. Все веера на этом шаре – разного цвета.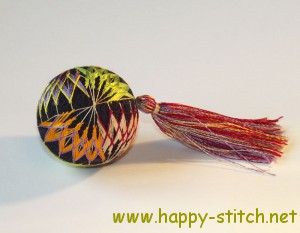 Кстати, этот шарик почему-то крайне понравился моему коту, да настолько, что кот его утащил, играл и пытался спрятать. К счастью, я заметила это вовремя и успела спасти тэмари от неизбежной смерти 🙂
Еще фотографии: Continue reading "Black temari with fans" →