It's Easter patterns time! So for all of you who are looking for free decorative designs, here is a pack of four patterns with four different Easter eggs. All patterns are of the same size (quite small) and very easy to stitch, and can be stitched separately or together.
The pack consists of four separate PDF files, complete with patterns and color charts, combined in one zip archive.
Easter eggs patterns pack – Tuesday freebie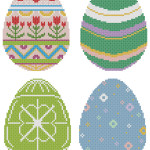 Приближается Пасха! И если вы ищете, что бы вышить к этому замечательному празднику, как раз для вас мой новый комплект из четырех схем с разноцветными пасхальными яичками. Все схемы – одинакового размера, поэтому их можно вышивать не только по отдельности, но и вместе (квадратом, как у меня на картинке, или линией, чередуя).
В комплекте – четыре файла в формате PDF с черно-белой схемой и списком необходимых нитей DMC. Впрочем, вы вольны выбрать и другие цвета по своему вкусу.
"Пасхальные яички" – коллекция схем для вышивки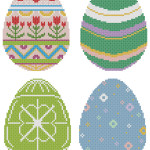 Continue reading "Easter eggs patterns pack – Tuesday freebie" →