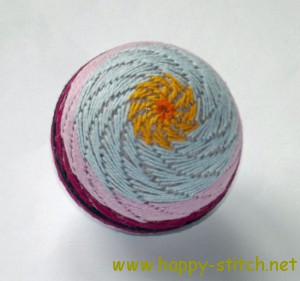 This temari is stitched only in swirls (with a bit of black wrapping around the center line). In the making this ball proved to be not quite as simple as I imagined it to be. The name, A Star Is Born, comes from the colors that start from black center (cosmos) and move on to orange dots (new stars) on poles.
Division: S12 (could be made on any simple division or actually without any division at all)
More pictures: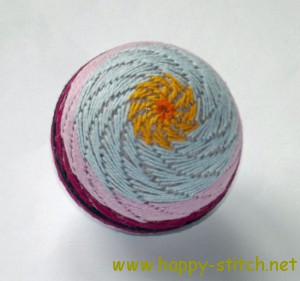 Узор на этом тэмари (не считая черной обмотки центральной линии) полностью вышит при помощи узора "спирали" . Название "Рождение звезды" родилось из цветового перехода от черного (космос) к ярко-оранжевым точам (звезды) на полюсах.
Разметка: S12 (может быть сделан практически на любой простой разметке)
Больше фотографий: Continue reading "A Star Is Born temari" →