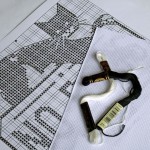 If this is your first attempt at embroidering, choose simple patterns with no more than five or six colours. Make it easier for yourself the first time, more complicated patterns will come later!
Use a light-colour fabric for your first embroidery project, because darker colors are more difficult to work with. Also, with dark colors your eyes will get tired quicker.
When cutting the fabric, leave some room around the edges. You should have a border between the design and the frame. If your calculations about the size of the design are somewhat wrong, you'll be able to stretch your work a bit at the edges.