Here is once again a pattern based on vintage drawings of flowers. Today it is two tulips – one deep purple in color and the other one yellow.
Stitch count: 90w X 142h Stitches, 29 colors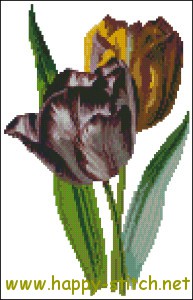 Сегодня я снова сделала схему для вышивки из винтажного изображения цветов (таких накопилось уже достаточно, что хорошо видно по тегу "винтаж"). На картинке – два тюльпана, один желтый, а другой – темно-фиолетовый со светлыми прожилками. Вышивка будет смотреться даже более старинной, если сделать её не на белой, а на бежевой или кремовой канве.
Размер вышивки: 90 X 142 крестиков, 29 цветов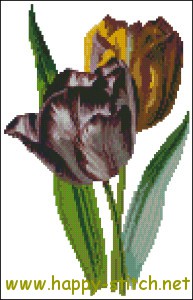 Continue reading "Two tulips chart" →