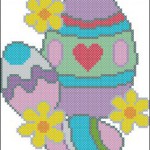 Would you believe if I told you that I totally forgot about upcoming Easter? Well, so I did, and only got suspicious with the sudden increase of the amount of people searching for Easter patterns 🙂 So here is a little something with Easter eggs and flowers (based on an image from the Web).
Easter eggs cross stitch pattern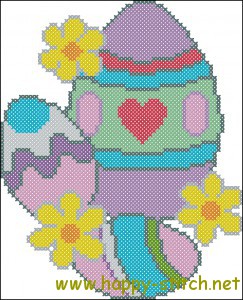 ! Download Easter eggs cross stitch chart
Stitch count: 64w x 79h stitches, 12 colors
Did you know? In software development an Easter egg is a hidden message, often a inside joke. Even some versions of Microsoft Office have Easter eggs in them! Удивительно, но за празднованием всех весенних праздников (не исключая моего любимого – сегодняшнего Дня Кошки) я совершенно забыла про то, что уже довольно скоро наступит Пасха. На смутные подозрения меня навело только внезапно увеличившееся число посетителей блога, ищущих пасхальные схемы для вышивки 🙂
Схема для вышивки "Пасхальные яйца"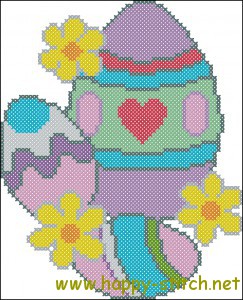 ! Скачать схему для вышивки "Пасхальные яйца"
Размер: 64 x 79 крестиков, 12 цветов
А знаете ли вы, что в программном обеспечении "пасхальными яйцами" называется спрятанная (но достижимая) незадокументированная особенность программы (шутка, ссылка на веб-страницу или мини-игра)? Говорят, что название пришло из детской игры, в которой участники должны найти как можно больше спрятанных пасхальных яиц.