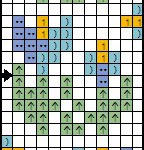 Two bookmarks that I made today are continuing the theme of the patterns that I made a couple of weeks ago. This time it is spring, represented by sweet first flowers and autumn with red and gold leaves.
Both patterns are free for download and very easy to make. Choose any colors you like!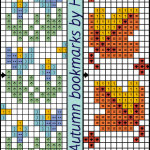 Autumn bookmark cross stitch patternСегодня я продолжаю и заканчиваю тему с сезонными закладками, которую я начала пару недель назад. Тогда я выложила лето и зиму, а сегодня для вас – осень с яркими красно-золотыми листьями, и весна с нежными голубыми первоцветами.
Выбирайте наиболее подходящие цвета и вышивайте! Обе схемы небольшие и простые, и подойдут для вышивания начинающими.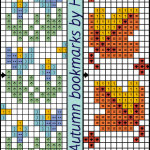 Схема для вышивки закладки "Осень" Continue reading "Spring and autumn bookmark patterns" →